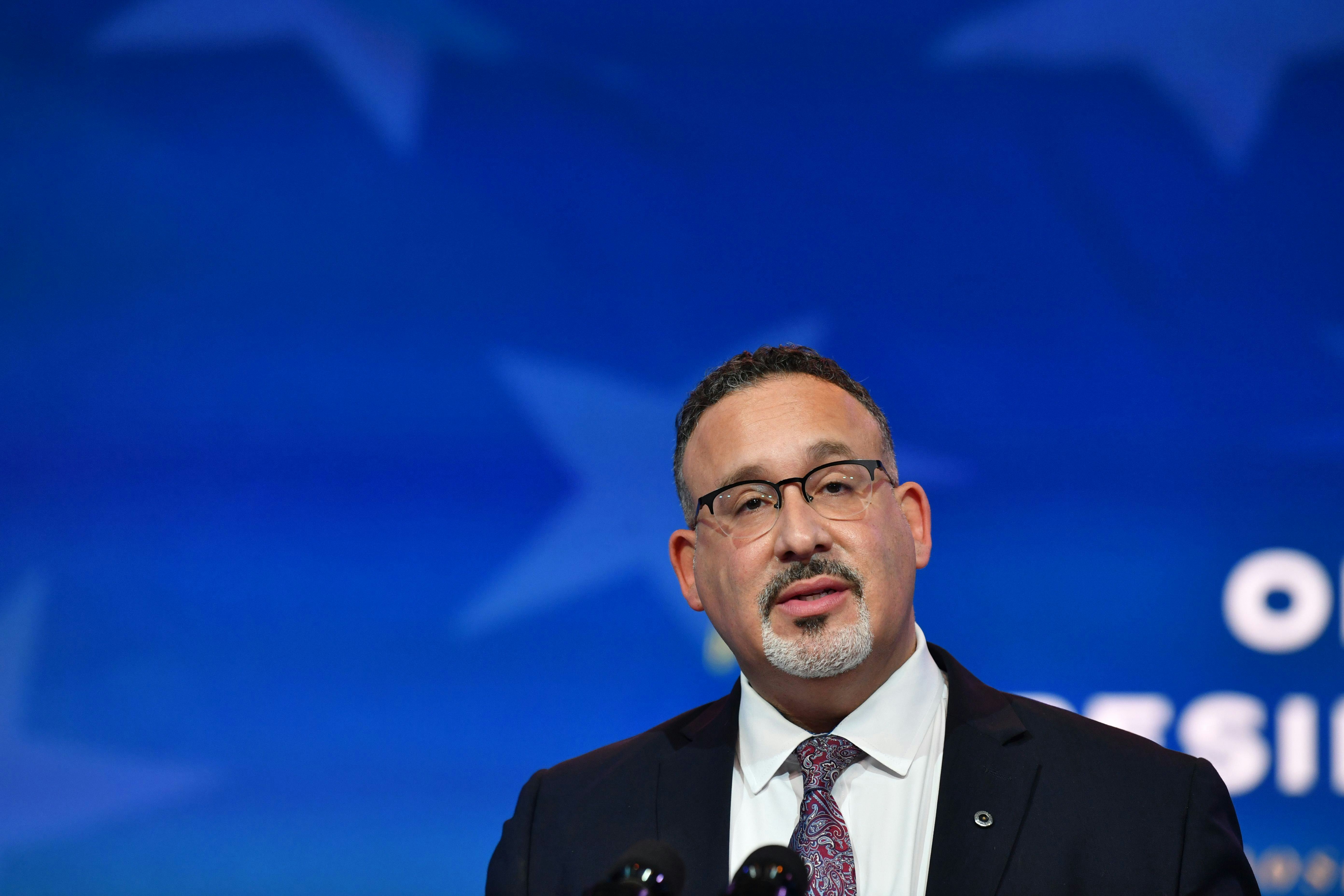 In a 64-33 vote, the Senate has confirmed former Connecticut education Commissioner Dr. Miguel Cardona to be the next Secretary of Education. Cardona is the second Latino Secretary of Education and one of only 13 previous Latino cabinet members in the nation's history.
While campaigning at the National Education Association forum for presidential candidates in Houston, President Joe Biden pledged that his Secretary of Education would be a teacher. "First thing, as president of United States — not a joke — first thing I will do is make sure that the secretary of education is not Betsy DeVos, it is a teacher. A teacher. Promise."
Cardona is expected reverse a number of policies instituted DeVos, including policy on civil rights, sexual assault on college campuses, and protections for student loan borrowers defrauded by for-profit colleges, according to ABC News. Indeed, Biden's pick stands in sharp contrast to the controversial former Secretary of Education; not just in philosophy but in personal and professional experience.
Cardona Was Raised In Public Housing & Attended State-Run Schools
Cardona was raised in public housing in Meriden, Connecticut, according to reporting from the Hartford Courant. His parents, Hector and Sara, are from Puerto Rico, and spoke Spanish at home with Cardona and his siblings, Hector Jr. and Marisol. In his opening statement at the Senate confirmation hearings, Cardona said of his family, including his wife Marissa Pérez and their children Miguel Jr. and Celine, "their role in my life has shaped my preparation for today's hearing as much as any degree or professional experience I've had."
Cardona exclusively attended public and state-run schools, earning a doctorate in education from UConn.
He Has Worked & Taught In Public Schools
In keeping with Biden's campaign promise, he has also taught in public schools. According to Cardona's biographical information on the Connecticut Department of Education website, he began his career teaching fourth grade at Hanover Elementary School. He quickly advanced, however, when the principal encouraged him to apply for her job. At just 28 years old, he was the youngest principal in the state. He eventually transitioned to the administrative side of education in the central office of his district.
Cardona was appointed to Connecticut Education Commissioner last year by Governor Ned Lamont, mere months before the coronavirus pandemic sent public education into crisis.
He Is Deeply Concerned With Public Education As "The Great Equalizer"
In a 2019 profile in the Connecticut Mirror, Cardona was described by colleagues as a strong, student-focused collaborator who remains ever-aware of structural inequities — both in and out of school — that impede and support student success. In the profile, executive director of the Connecticut Center for School Change, Richard Lemons, who worked alongside Cardona improving instruction and leadership development in Meridan schools, called Cardona "passionate."
"He is very passionate about serving children well, very passionate about making sure our systems of education do a better job of serving kids, families and communities that have long been marginalized, especially kids of color, kids of poverty," Lemons shared with the publication. "He believes in doing this work through people, not at people, not on top of people."
During his tenure as education Commissioner, Cardona cited closing Connecticut's achievement gap between racial and socioeconomic groups as a top priority, which he discussed in an episode of the Connecticut Mirror's podcast, Steady Habits.
And in a 2019 commencement speech at his alma mater, Central Connecticut State University, Cardona said, "The passion I have for public education stems from my belief that it is the best lever for economic success and prosperity in Connecticut, and the belief that public education is still the great equalizer. It was for me."
He Will Guide School Reopenings "Based On Science"
As education commissioner in Connecticut, Cardona was a proponent of in-person education throughout the pandemic. It is a position he reiterated at his Senate confirmation hearings, as CNN reported.
"There is no substitute for a classroom experience for our students, being in front of their teacher. So we have to do everything we can to safely reopen schools in a manner that gets the students back into their learning environment," Cardona said. He did not, however, go so far as to call for deadlines for reopening, keeping in line with the unions who have backed him, including the American Federation of Teachers, which has suggested that Biden's ambitious desire to reopen most schools by May should be a goal rather than a mandate.
Cardona has said he would provide clear federal guidance that is based on science. "We have great examples throughout our country of schools that are able to reopen safely and do so while following mitigation strategies." This position is in keeping with recent statements from Centers of Disease Control director Dr. Rochelle Walensky, who said in a White House press briefing that a growing number of studies show that, with mitigation measures, schools can reopen safely.
This content was originally published here.