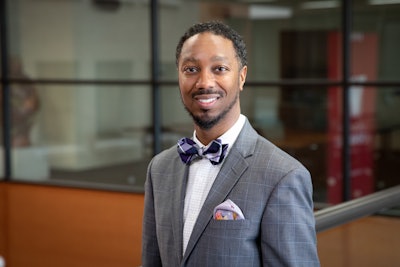 Twelve years after its creation, Wisconsin's Equity & Inclusion Laboratory (Wei LAB) at the University of Wisconsin—Madison has a new director: Dr. Brian A. Burt.
Burt, a 2019 Diverse Emerging Scholar and associate professor of higher education at the University of Wisconsin—Madison (UW—Madison), was previously assistant director and research scientist at the Wei LAB. He takes the reins from founder Dr. Jerlando F. L. Jackson, who is now the dean of Michigan State University's College of Education.
Jackson and his work at the Wei LAB were early inspirations for Burt. They first met at an all-day symposium focusing on Black scholars, while Burt was still pursuing his doctorate.
"Dr. Jackson was laying out the blueprint of what the Wei LAB was, what intervention it does, why it's important and necessary, how centers and labs have the capacity to elevate the work you do and disseminate the work," said Burt. He took diligent notes that day, never knowing that later he would be leading the lab himself.
The Wei LAB was founded in 2010 as a research unit dedicated to advancing the mission of UW—Madison's Office of Diversity and Climate. Over the next decade, the lab expanded to partner with other offices and organizations, both internal and external, that focus on Black students, LGBTQ+ campus climate assessments, urban education centers, and more. The lab won multiple grants and shared their work across state and country borders.
As the new director, Burt said he is keen to continue and increase these collaborations. Building new partnerships and funding opportunities will be a key feature in Burt's first year as the Wei LAB director. The Wei LAB, Burt said, is a storyteller for those with marginalized voices, and Burt has plans to amplify those stories by turning research into tangible practices for education at all levels.
"We're going to be much more streamlined in having a research arm and a practice intervention arm. We'll be able to offer workshops and other kinds of resources for people," said Burt. "I want the Wei LAB to be a go-to place where people can reach out if they need resources or want to gain experience with resource preparation. That's the vision that I have."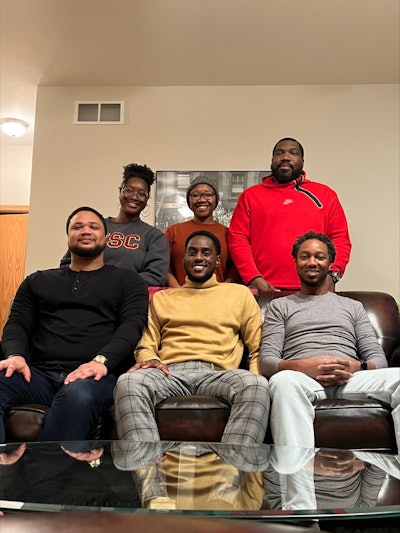 Burt is also eager to make sure the Wei LAB remains an open and exciting place for undergraduate, post-doc and graduate students alike to find a home. He recalled how a research community helped him find success when he was contemplating dropping out of his master's program at the University of Maryland in College Park.
"My mentor, Dr. Sharon Fries-Britt, invited me to join her primarily doctoral research team," said Burt. "It was exactly what I needed."
Fries-Britt's research in STEM influenced not only Burt's field of study but his understanding that research can be a tool for retention. With the support of mentors like Fries-Britt, Burt began to see research as a way to build confidence and a culture of community.
Another mentor Burt counts as an influence is Dr. Chance W.  Lewis, the Carol Grotnes Belk Distinguished Professor of Urban Education and director of the Urban Education Collaborative at the University of North Carolina at Charlotte. The Collaborative is one of many Wei LAB partners.
"It's a proud moment for me. Seeing Brian Burt as a doctoral student to what he does now, I get to see how he's mentoring the next generation," said Lewis. "In the Wei LAB, he has the ability to provide opportunities for many students that will prepare them for their careers here after."
Lewis said that Burt is not only an excellent researcher and writer, but he also has a knack for earning funding. Burt has been able to garner millions for his research, and he credits his success to understanding how to break down a big research idea into smaller sections for study.
"You've got to find that sweet spot of this great idea," said Burt. "What's the idea you're really passionate about, curious about, committed to, and then what are the small units of it that can break it down into multiple studies? I think about it like goal setting—what's the goal and what are the small pieces of the goal? I'm very structured like that."
Burt said he plans to continue his research on high achieving Black men in the fields of science, technology, engineering and math (STEM), while folding in new elements like art and medicine, both of which have gained particular relevance during the pandemic and its increasing toll on physical and mental health.
Music in particular has an important place in Burt's life. He was once a classical pianist, and still returns to the piano in times of great stress. He said he used to watch the Boston Pops every Sunday, dreaming of one day becoming a famous orchestral conductor.
"I realized, I don't have an orchestral symphony, but I kind of do—my team is my symphony," said Burt. "I'm still conducting, and the Wei LAB is the world-renowned orchestra."
Liann Herder can be reached at lherder@diverseeducation.com.
This content was originally published here.