Ann Cunningham is the program manager for Hocking College's new Driver Education course.
Cunningham describes herself as "a public school teacher with an interest in anything that moves!"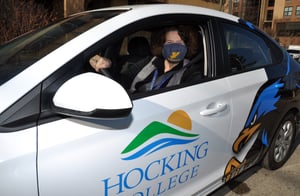 Her passion for getting behind the wheel began when she was a little girl. 
At the time, her cousins had a toy driving dashboard with a movable steering wheel, turn signals that made noises and an ignition slot for a plastic key.
It quickly became her "go-to" toy whenever she visited her relatives.
Cunningham received her training through AAA-Athens and has worked with 16- and 17-year-olds and adults for the past five years. 
She recently completed her manager's training with the Ohio Department of Public Safety, which allows her to teach students how to drive, schedule lessons, keep up-to-date records of those lessons and oversee any daily maintenance issues related to the school.  
Is this program open to everyone?
This program is open to Hocking College students and the general public, all of whom must have a state-issued driving permit. That includes high school students looking to get their driver's license when they turn 16.
Others who could benefit from taking this course include international students, College Credit Plus students who are at least 15 years old and students who have a job or are involved in extra-curricular activities.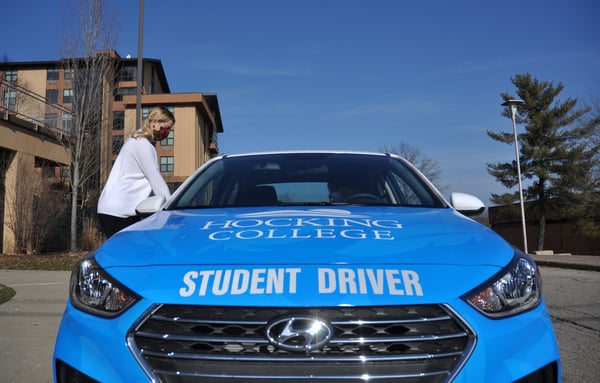 When can students start enrolling in this program?
Students can find out more information about signing up for classes by emailing Cunningham at cunninghama37883@hocking.edu.
How long is this course?
According to Cunningham, students who are age 15-17 can expect 24 hours of class time. This averages to approximately two weeks and eight hours behind the wheel with an instructor. 
She added that the state requires 50 hours of parent/guardian behind-the-wheel time, 40 hours during the day and 10 hours at night. 
The time adults spend in class depends on their situation, such as their experience, schedule and access to a car to practice in. 
What will students learn in this course?
The course will follow the Ohio State Driver's Education curriculum and cover the following topics:
What pandemic-based precautions will this program enforce?
"We will follow the same protocols that are in place for any contact program at Hocking College," Cunningham said. "Each student and parent (if a minor) will be asked to sign a waiver of responsibility to participate in this program."
Students in the program will be expected to follow these rules:
Overall, Cunningham's goal for this program is to see that her students graduate with a good foundation of driving rules, skills, laws and science so they can be well prepared to have a safe and positive driving experience throughout their lives.
How can I get more information about this course?
For more information about Hocking College's new Driver Education course, email Program Manager Ann Cunningham at cunninghama37883@hocking.edu.
This content was originally published here.