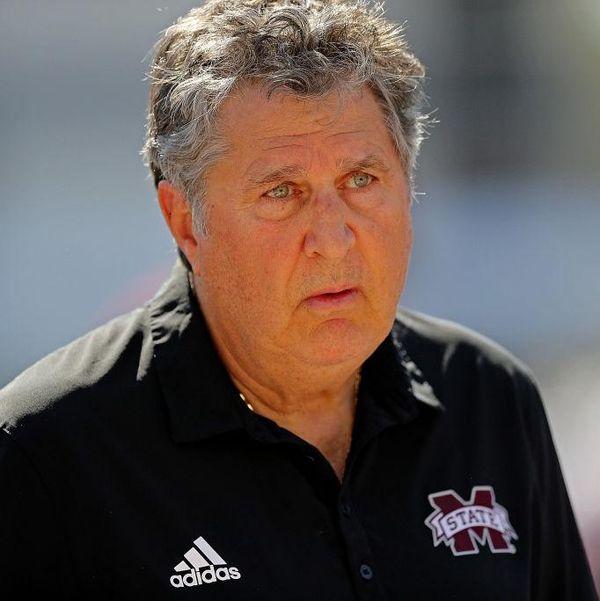 Mike Leach, one of the most beloved coaches in all of college football, is in the hospital in "critical condition" after suffering a massive heart attack.
Leach, the head coach of the Mississippi State Bulldogs, suffered the heart attack on Sunday in his home in Starkville, Mississippi, where MSU is located. Reports claim that Leach did not receive any medical treatment for 10 or 15 minutes until EMTs arrived and shocked Leach with a defibrillator "multiple times" until they restored a regular heartbeat. Leach was first taken to a local hospital but quickly transferred via helicopter to the University of Mississippi Medical Center in Jackson, approximately 120 miles southwest of Starkville.
The initial reports out of Starkville are grim. The Clarion Ledger wrote on Monday that Leach's situation was "dire" and that the 61-year-old coach "may have suffered seizures with the possibility of brain damage." At least two of his four children were said to be in Jackson. In a statement released Monday, MSU claimed that Leach "remains in critical condition."
"Mike Leach needs a miracle, folks. Continue to pray," Robbie Faulk, an MSU beat writer for 247Sports, tweeted on Sunday.
Leach, a coach described as an offensive "innovator" but who is perhaps best known for his humorous sideline and post-game interviews, has apparently not felt well for a while. He recently told ESPN that he had suffered from pneumonia off and on all season but that he had been feeling better lately.
After successful stints at Texas Tech and Washington State, Leach just completed his third regular season with the MSU Bulldogs (8-4), who just notched their first win against in-state rival Ole Miss under Leach's leadership. The Bulldogs are set to face Illinois (8-4) in the ReliaQuest Bowl in Tampa, Florida, on January 2. Defensive coordinator Zach Arnett, 36, will assume head coaching responsibilities "until Coach Leach returns," the school announced.
"Coach Leach is a fighter, and he is battling," added Sid Salter, the chief communications officer at Mississippi State.
The following clip from October gives good insight into Leach's lovable persona. During this quick interview, SEC sideline reporter Alyssa Lang asked Leach for some advice while she plans her upcoming wedding. With a straight face, Leach said he would have advised her earlier "to keep [the wedding] on the down-low," but since she had let the cat out of the bag and announced her engagement publicly, Leach suggested she "go elope."
"Trust me on that," he added.
Lang's smile throughout the interview demonstrates that all of Leach's side commentary is meant in good fun. He has spent other interviews discussing his favorite Halloween candy and the art of making Thanksgiving gravy.
This content was originally published here.