Meme kid, now a college football player, brokers internet fame into NIL deal with Popeyes: 'When I look back at it, I laugh'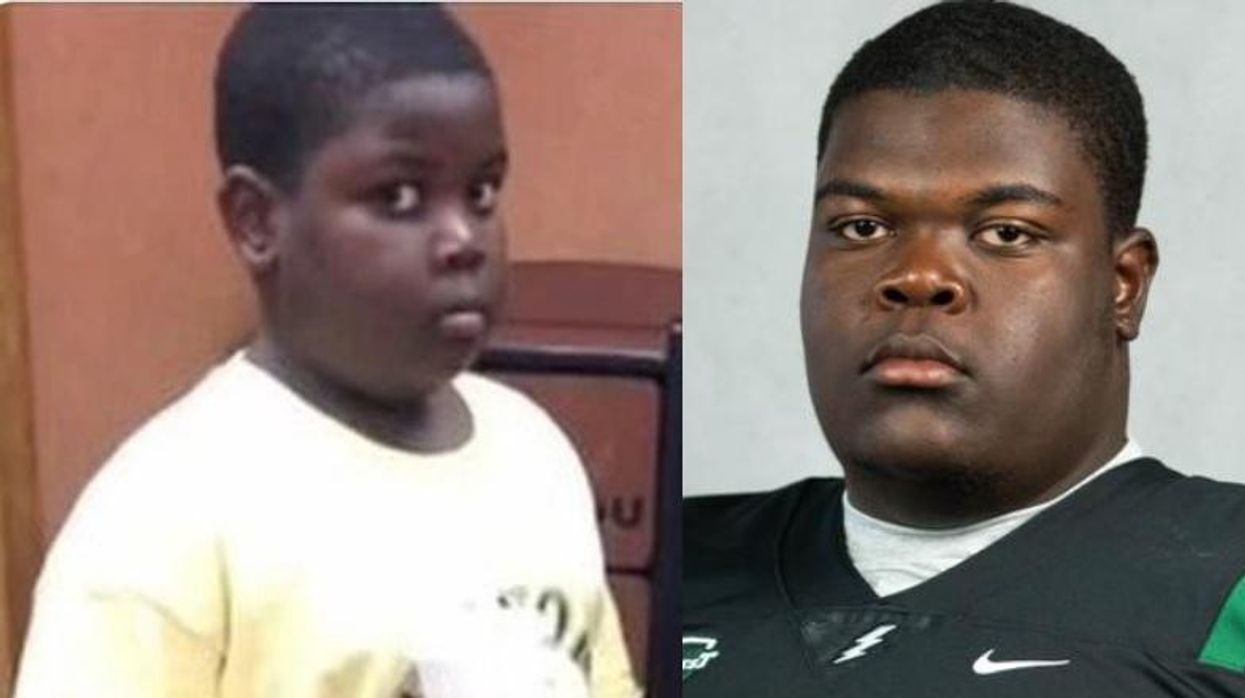 The young kid whose face has been associated with uncertain or awkward situations for years has now used his fame to reach an agreement with the fast-food joint where it all began: Popeyes.
Back in 2013, Dieunerst Collin was just a normal 9-year-old kid when he visited a Popeyes restaurant and a fellow patron thought he strongly resembled Lil TerRio, a then-6-year-old who had recently become an internet sensation for dancing along to "Ooh Kill Em." The patron snapped a quick video of Collin, who then flashed his now-famous side-eye at the camera, and a meme star was born.
Vine Clip Of The Week: Fat Kid Terio In Popeyes Ooh Kill Em
Now, ten years later, Collin is a red-shirted freshman offensive lineman playing for Lake Erie College — a Division II school along the shores of Lake Erie, just northeast of Cleveland — and he recently realized that he could capitalize on his already famous image if he were to partner with the restaurant that made him famous.
"I thought this is probably the opportunity I can get with Popeyes to at least reach out," Collin stated.
Because of new name, image, and likeness rules in the NCAA, players are now able to sign endorsement deals with local and national businesses. Though few of his teammates have inked NIL deals, Collin knew he was in a unique position with Popeyes. So on January 8, he took to Instagram and posted his famous side-eye meme, as well as a picture of him giving side-eye while hoisting the high school state championship trophy a year ago. He then asked friends, family, and Instagram users of good will to bring him to Popeyes' attention.
" I JUST WANNA TALK BUISNESS (sic)," he wrote.
The ploy worked. He went viral once again, even prompting major sports media outlets like ESPN's "SportsCenter" to help him in his endeavor.
"People just started to join on my post and people that were on the 'SportsCenter' post," Collin said. "And I believe Monday afternoon was when Popeyes DM'ed me and said, 'We actually want to work with you.'"
Collin reported that Popeyes has made him an NIL offer, though he has not disclosed the details of the deal or confirmed that he has signed it.
\u201cBREAKING: Popeyes has signed Dieunerst Collin \u2014 "The Popeyes meme kid" \u2014 to an NIL deal.\n\nCollin is now a freshman offensive lineman at D-II Lake Erie College.\u201d

— Front Office Sports (@Front Office Sports)
1673405128
Looking back, Collin can now appreciate his unsought fame, even though he struggled with it as a child.
"I ain't gonna lie to you. Before, I did take [the meme] as offensive," Collin said in 2021. "Now, I do take it as a joke. When I look back at it, I laugh at it. In general, I'm known as being a funny guy."
Now those laughs can help keep him in the national spotlight and put a few more dollars in his pocket.
"I just want to thank everyone for going in the comments and tagging Popeyes," Collin said. "That actually led me to where I'm at now, so I'm grateful for that."
This content was originally published here.