Jennifer Trotter's interest in public engagement began when her small, diverse community in San Diego became home to a new freeway that ran right through the town and next to her school. This freeway shifted the neighborhood's overall aesthetic and had significant impacts on local businesses and homes. Although Trotter was only a high school student, she recalls questioning some of the project impacts and never getting a say in the matter.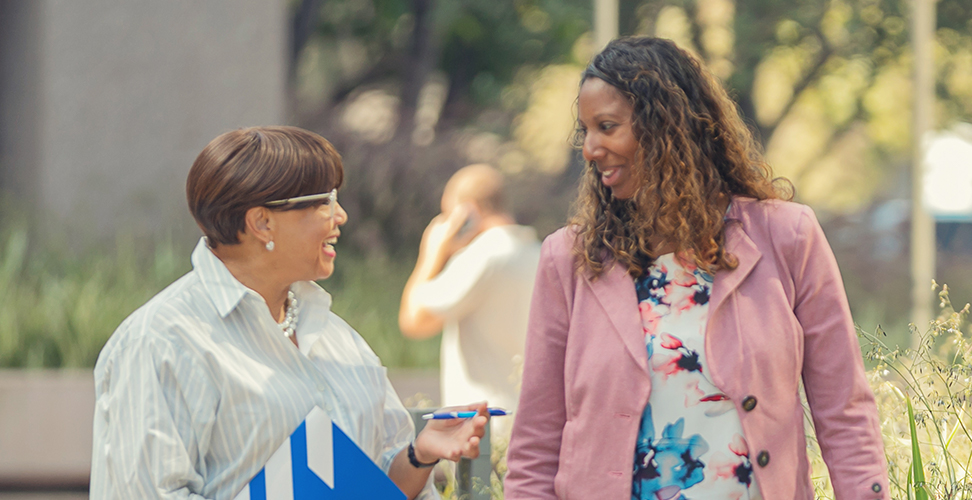 Michelle Word (left) and Jennifer Trotter work with employee-owners, clients and community members promoting business diversity at Burns & McDonnell.
Her interest in public engagement matured throughout college, where she earned a bachelor's degree in international development studies and developed a keen interest in urban planning and community development. Before joining Burns & McDonnell in 2015, Trotter led a nonprofit focused on ending generational poverty in subsidized housing. Before that, she worked for an organization that provided grant support to small municipalities working to remediate and redevelop contaminated land. She also earned a master's degree in urban planning.
To this date and regardless of the project, Trotter instills the importance of engaging the public and considers how and who the project is impacting. She also acknowledges a tenet that has followed her for a lifetime: Treat everyone with equal respect. Through her active membership with the International Association for Public Participation, Trotter has gathered many strategic and tactical implementation concepts for community engagement, such as being transparent, having integrity and valuing diverse perspectives.
After spending nearly four years focused on public engagement with Burns & McDonnell, Trotter transitioned to her current role as the firm's California diverse business manager. Although she had been leading the integration of business diversity into business practices for years, this position has shifted the priority of business diversity for Burns & McDonnell in California.
Working toward business diversity combines Trotter's passion for community engagement and relationship building with her commitment to equity and inclusion.
"I fell into the business diversity work. And as I fell into it, I fell in love with it," Trotter explains.
Trotter works with her clients to reach a common goal of increased utilization of diverse businesses. To accomplish this goal, she has built robust programs for diverse business partnerships that manage supplier relationships and development, compliance reporting and program manager training.
In terms of what's next for Trotter, she's hopeful to continue to grow the Burns & McDonnell commitment to supplier diversity to make bidding opportunities open to all qualified companies.
This content was originally published here.