Wabash College President Scott E. Feller and Dean of the College Todd McDorman announced the promotion and tenure of four faculty members. Professors Lorraine McCrary (political science), Karen Quandt (French), Sujata Saha (economics), and Erika Sorensen-Kamakian (biology) all successfully completed the tenure process and will assume the rank of associate professor at the 190-year-old liberal arts institution.
"I have been thrilled to watch the development of this group of teacher-scholars," Feller said. "From my time helping to recruit them to Wabash and to launch their careers here, I knew that that these four individuals had the potential to have a big impact on our students, our college community, and their academic disciplines. In reviewing their tenure files, I was struck both by the excellence they have demonstrated and also by the way they persevered under the difficult conditions of the pandemic. They found creative ways to adapt their teaching and to maintain their scholarly work, and they made critical contributions to the lives of our students when those were needed most."
McCrary earned her bachelor's degree from Grove City College and a master's degree and Ph.D. from Georgetown University.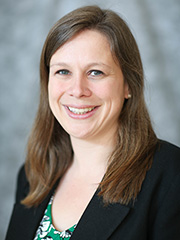 "I'm grateful for the recognition and for the opportunity to continue the work I love," said McCrary. "Wabash's students are kind and curious, engaged and respectful; I'm really inspired by them and glad that I can continue to teach them. And it's wonderful that I'll continue to be part of the supportive and collaborative Wabash faculty, without whom I would not have made it this far. This milestone is also the chance for me to reflect on and say thank you for the support from so many people who have helped me get to this point. I am reminded of the many communities of which I am part; I am so grateful for their care and support." 
McCrary's research brings together disability studies and the feminist ethic of care; she also writes about Arendtian natality, as well as the relationship between the family and politics. She often draws on literature in her research.
"In the classroom, Professor McCreary invites free flowing, student-driven discussion while deftly guiding, nudging, and challenging students at the right moments," said McDorman. "This ability stems from her skills as an excellent listener who is deeply dedicated to fostering a sense of community. Professor McCrary's concern for community is also present in her scholarship where she uses political theory to produce novel insights into disability studies, cutting edge work that has earned national recognition. Furthermore, her concern for and investment in the Wabash community is seen in a range of ways from being central to the development of the PPE major to how she cheers her students on at basketball games and in other venues."
Quandt received her bachelor of arts in art history and a master's in French from Notre Dame and her Ph.D. in French from Princeton.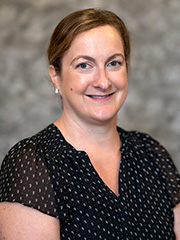 "It is a huge honor to be promoted to tenure at Wabash College, particularly alongside three women who are formidable scholars and highly esteemed teachers," said Quandt. "It means a lot to know that I have the support of my colleagues, and the fact that students have an important voice in the process makes this such a particularly rewarding milestone. The road to tenure is long and sometimes arduous, but I have been fortunate to have had excellent mentorship along the way. I am always aware of the precious value of the professors, advisors, and colleagues who have encouraged me to grow not only as a learner but also as a person, and I work every day to do the same for my students. I am very excited to see what lies ahead, and look forward to continuing to grow as a professor within this special community."
Quandt's primary research interests involve 19th-century French poetry, particularly the intersections between visual art and literature, and she also works extensively on ecocritical themes in the literature of this period.
"Professor Quandt has been tasked with leadership responsibilities from almost the day she arrived at Wabash," McDorman said. "She leads the French program, mentoring both students and faculty colleagues alike. She also has been a leader on the off-campus and international studies committee. As a teacher, she is deeply invested in the success of her students, providing individualized attention and exhibiting an adaptability that enriches student experience. She is also increasingly recognized nationally for her scholarship on eco-criticism and visual arts centered in 19th century French literature, and performs valued leadership roles for the Modern Languages Association."
Saha earned her bachelor's and master's degrees in economics from the University of Calcutta and a Ph.D. in economics from the University of Wisconsin-Milwaukee.
"I feel humbled and thrilled to have earned tenure," said Saha. "The experience of teaching, research, and service at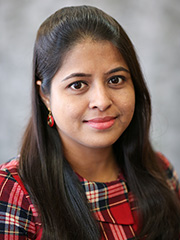 Wabash has been very enriching and rewarding. The students here are invested in their education, and they like to be challenged. Tenure provides me the precious opportunity to continue to strive to provide effective, unique, and inclusive experiences to my students in and outside of the classroom, work on expanding my research agenda, and collaborate closely with faculty, staff, students, and alumni to broaden my service to the College to have a more meaningful and lasting impact. I express my deepest gratitude to many remarkable individuals who supported and helped me along the way. Thank you, Wabash, for all the love, support, trust, and recognition! Wabash holds a special place in my heart."
Saha's primary research interests are in the areas of international finance and trade and open economy macroeconomics. As a researcher she investigates hot-button issues that have significant effects on a macroeconomic level.
"Professor Saha has the ability to hold students to high standards while still always being supportive of them—and is greatly valued and respected for it," said McDorman. "Two words that aptly capture her are responsive and conscientious. She takes feedback from students and colleagues seriously and is committed to sustained excellence. She is also valued for her campus-wide service contributions that make meaningful improvements in student experience and College operations. Finally, she is a serious scholar who produces both solo research and scholarship with multiple colleagues, and produced five publications in 2022 alone."
Sorensen-Kamakian earned her B.S. from the University of Wisconsin-Whitewater and a Ph.D. from the University of Minnesota.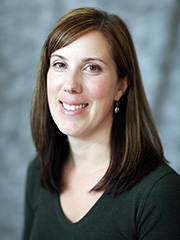 "Of course, I was thrilled to receive the news," Sorensen-Kamakian said. "It was confirmation that the College values my work in the classroom, research, and service. What tenure means is that I can look forward to helping Wabash students get excited about science in the classroom and laboratory for years to come. I owe a lot to my husband and son for their support over the past 15 years."
Sorensen-Kamakian's primary research interest is understanding the molecular mechanisms that govern germ cell development and maintenance, using the animal C. elegans, a small worm.
"Professor Sorensen-Kamakian particularly excels in student mentorship and working with students in small group and one-on-one settings," McDorman said. "She has built deep relationships with students in her research lab, relationships that students clearly value and shape both their Wabash experience and their lives. Professor Sorensen-Kamakian is also an excellent researcher who, along with Professor Wally Novak, received a prestigious National Science Foundation grant of a nature and scope more common at R1 institutions. The grant is allowing her to work with even more students and stands to make exciting scientific contributions."
These promotions are effective July 1, 2023.
This content was originally published here.