Editor's note: The following article is part of a larger series documenting the lives — the successes and the struggles — of many Utahns. The series highlights the various voices of different cultural identities such as race, ethnicity, religion and sexuality, among others, in Utah.
SALT LAKE CITY — Sarah Vaughn is a developmental officer for the Boys and Girls Club of the greater Salt Lake area and sits on the board of the American Civil Liberties Union. She's a board member of the Martin Luther King Jr. Humans Rights Commission, as well as a member of the Salt Lake County Democratic Executive Committee.
To say Vaughn, who has been in Utah for a decade now, is a community builder would be underselling it — by a lot. Yet, there have been many times over the last 10 years where she felt she didn't really belong in the state.
"I've dealt with a lot of loneliness and sadness and isolation," Vaughn said. "I'm also a shy person but also just not truly finding a place where I thought I could be myself and that people would accept me and see my value and see me as who I am as Sarah Vaughn."
She didn't want any other woman to feel those same feelings.
In a few weeks, Vaughn will celebrate the 1-year anniversary of the Melanin Squad, an organization she founded to provide a safe space for women of color in Utah to interact, network and foster connections.
"I couldn't really find those types of programs and events that catered to, me and so I decided to launch Melanin Squad to focus on personal, professional development and also just the importance of networking, the importance of women of color to network and to be together in the same room," Vaughn said.
She created what she was looking for in the state — and so she half-jokingly calls it a "selfish" endeavor.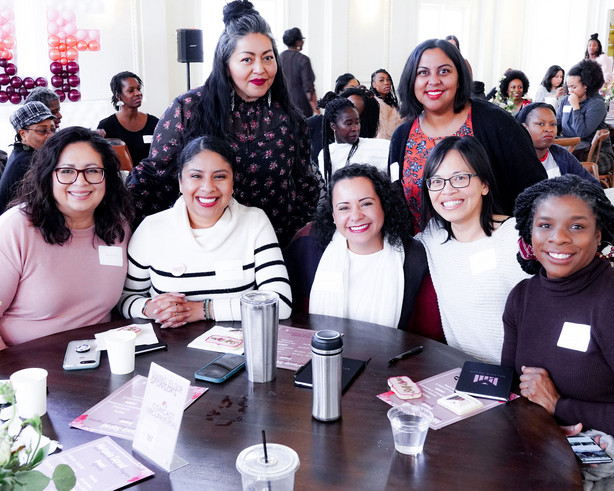 "It's brought so much joy into my life, because when we launched last year it was so amazing to see 16 women of color in one room together, and us dancing and laughing and talking about our experiences and challenges," Vaughn said. "It's made my life whole, it's made my life better in Utah to see that I'm creating a safe space for women of color to be ourselves to dance, to laugh. I think I benefit from it the most."
Her joy, though, is spreading to the others in the group.
Vaughn remembers being told by a member of the squad about how she "gushed for weeks" about how "welcome, safe, seen and understood" she felt attending an event "surrounded by women of color who share my daily experiences, my fears, my frustrations, my loves, and my cultures." It was a place where she felt respected and admired for who she was. A place that for many women of color had been hard to find in Utah.
Vaughn's idea for the squad came from her doing brunches focusing on women of color. It was her attempt to build a stronger community in her adopted home. A few of her friends invited their friends, and soon the brunch table wasn't big enough to accommodate everyone.
"I was like, 'I should do this bigger and make it so that every woman of color can experience this in the state of Utah,'" she said.
The idea was to have quarterly meetings — doubling as a social and professional opportunity for women of color in the state. The first meeting, which was held last October, was attended by 16 women; February's gathering had 72. And even with the coronavirus pandemic halting the in-person events, Vaughn said the community has still grown. The squad's social media following has increased and the group held their first virtual meeting in September.
"We've got a lot more visibility, and a lot more women of color reaching out to us and saying, 'Oh my gosh, I love your events. I can't wait for the next one' or 'I'm moving back to Utah in a couple of months, I can't wait to be part of the Melanin Squad,' and so the visibility has grown this year, despite COVID," Vaughn said. "It's really been an amazing, amazing year to see the growth of the Melanin Squad and the need that there is for it in the state."
More stories you may be interested in
This content was originally published here.