Crypto Bro CEO Says Easily Triggered Woke Employees Destroy Productivity, So He's Offering Them a Buy-Out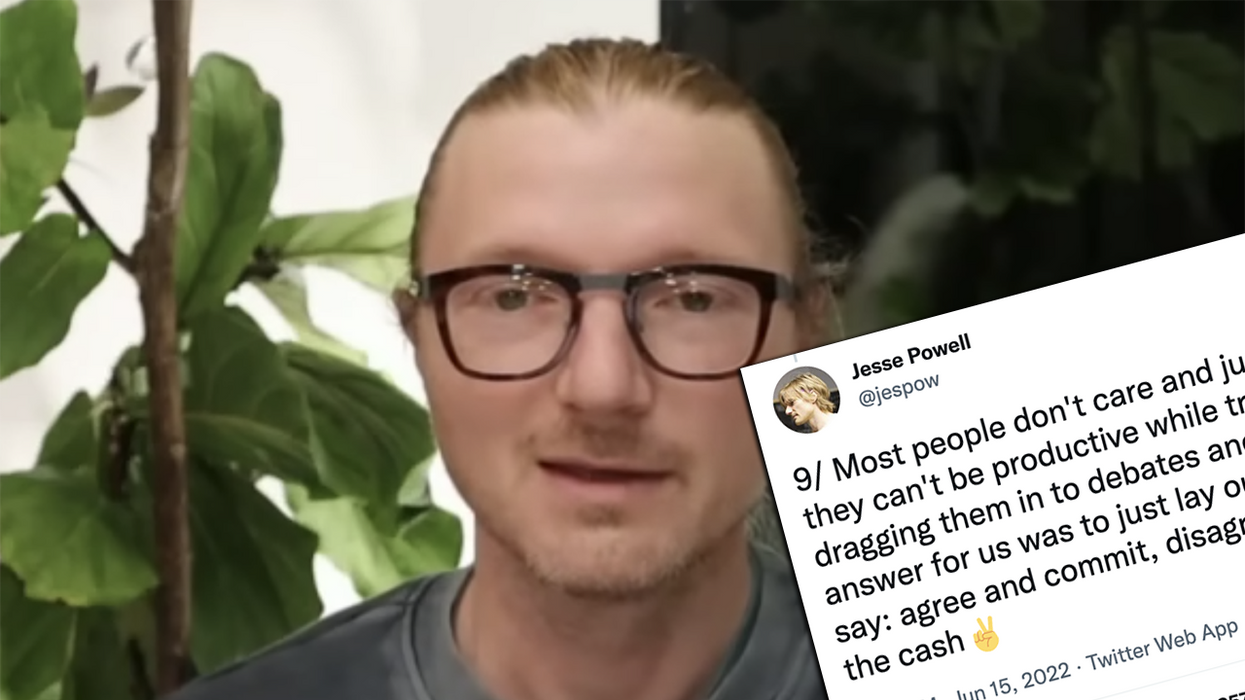 Jesse Powell is the CEO of Kracken, an app that lets you buy crypto. Like many tech companies, or really any company in 2022, there are perma-offended woke nincompoops who are miserable to be around. At a company like Twitter, it's everyone in the company. At Kracken, it was only a handful, but it was a miserable handful who got in the way of actual work. So Powell is offering them a severance package.
As Kracken grew, so did the diverse group of employees working for the company. Powell believes in diversity of thought and foolishly thought employees could have respectful debates with each other. When a handful of imbeciles were always whining about pronouns, DEI, and being "harmed" by "violent" words, Powell realized he miscalculated.
8/ Then it's about "silencing" people 😂. Funny thing is the biggest activists have the most myopic view of the world. They don't realize how discriminatory they are to others. You want to be "inclusive" by asking an ESL Saudi candidate his pronouns/gender in a job interview?
— Jesse Powell (@jespow) June 15, 2022
So, he went to rid Kracken of the woke menace. Not by firing them, that would be too based. But he offered them a severance because Kracken clearly wasn't the place for them, says Powell. "Most people don't care and just want to work, but they can't be productive while triggered people keep dragging them into debates and therapy sessions. The answer for us was to just lay out the culture doc and say: agree and commit, disagree and commit, or take the cash."
10/ Unfortunately, that's not enough for everyone. Someone's likely been sharing internal chat (in breach of their NDA) devoid of context, with a journalist who we expect to publish a hit piece in the next few days. I just want to say we welcome all, and don't believe the news.
— Jesse Powell (@jespow) June 15, 2022
Powell said that 30 out of 3000 employees took the buyout because being around others with different opinions was too scary for them. The CEO reiterated his commitment to diversity of thought: "If nobody is ever offended, we either don't have enough diversity of thought or we don't have enough transparency in communication. We recognize that hurt feelings are inevitable in a global organization that is optimizing for team outcomes above individual sentiment. The ideal Krakenite is thick-skinned and well-intentioned."
Amen. Otherwise, go get a job at Twitter or the Washington Post. They care less about work and more about your fee-fees.
The Louder with Crowder Dot Com Website is on Instagram now! Follow us at @lwcnewswire and tell a friend!
Why are Leftists Losing THOUSANDS of Twitter Followers OVERNIGHT? | Louder With Crowder
This content was originally published here.