Covid-19 roundup: Researchers call out Gilead for diversity of remdesivir trials in NEJM; Mexico in vaccine dose, trial talks
Racial and ethnic minority groups suffer higher rates of Covid-19 infection, hospitalization and death than white or non-Hispanic Americans.
Yet when remdesivir was tested in an NIAID-funded Adaptive Covid-19 Treatment Trial, Black patients accounted for 20% of participants. And they accounted for just 11% of those assigned to take the drug in a Gilead-funded study, according to the New England Journal of Medicine.
In a Perspective piece, NEJM researchers called for increased diversity in Covid-related clinical trials.
"To provide the necessary data for generalizing efficacy and safety outcomes across racial groups, Covid-19 clinical trials must prioritize inclusion of patient populations that reflect the demographics of the ongoing pandemic, especially in the United States, and funding for scientists from underrepresented ethnic groups must be increased," the piece states.
Black Americans are infected with Covid-19 at a rate 2.6 times higher than white or non-Hispanic Americans, according to the CDC. And they are dying at a rate 2.1 times higher.
Native American and Latinx American groups are both infected at a rate of 2.8 times higher than white Americans. But they represented 23% and 0.7% of participants respectively in the ACTT-1 trial.
The CDC lists discrimination, access to healthcare and insurance, housing conditions, and educational and income gaps as factors that put racial minorities at higher risk for Covid-19 infection. Those in minority groups are also more likely to hold essential jobs, according to the CDC.
As for the lack of diversity in clinical trials, the NEJM suspects that medical distrust, cost, language barriers, health literacy and implicit bias are among the key contributing factors.
"It is alarming that long-standing racial health disparities have been extended to Covid-19 clinical trials when racial and ethnic minority groups have so much to gain from this research, including the opportunity to receive lifesaving treatment," the article states.  — Nicole DeFeudis 
Mexico to conduct late-stage Covid-19 testing for three drug makers
Mexico struck deals to conduct late-stage trials of Covid-19 vaccines developed by Johnson & Johnson, Cansino Biologics and Walvax Biotechnology, in the hopes of securing doses when it comes time for production.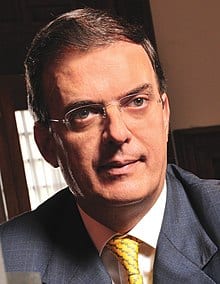 Marcelo Ebrard
"This is what worries President (Andrés Manuel) López Obrador, that we have it on time," Foreign Minister Marcelo Ebrard said, per a Reuters report.
The country has the world's third-highest Covid-19 death toll, at nearly 54,000 deaths.
Late-stage trials are set to begin between September and January, and Cansino and Walvax are eyeing production in Mexico for distribution throughout Latin America, according to Reuters.
Johnson & Johnson is expected to enter its Ad26 SARS-CoV-2 vaccine in Phase III trials this September. Initially, it was set to begin clinical trials that month, but the company accelerated development and began human testing in July. If approved, Johnson & Johnson plans to make over 1 billion doses next year.
Cansino became the first vaccine approved for limited human use in July, when China allowed its military to take injections. The company plans to enter Phase III testing soon.
And Walvax has partnered with the People's Liberation Army (PLA) Academy of Military Sciences in China to develop an mRNA candidate, which induced antibodies and a T cell response in mice and crab-eating macaques. — Nicole DeFeudis 
Russia says Covid-19 vaccine doses coming in next two weeks
In the next two weeks, Russia expects to inject medical professionals with a Covid-19 vaccine that has not completed clinical trials.
The country registered the Gamaleya Research Institute's Covid-19 candidate while it is still in Phase III trials, and President Vladimir Putin said his daughter has already taken it. He announced it as the "first vaccine against the novel coronavirus infection in the world," according to RIA Novosti, a state-controlled news agency.
The first batch of doses is expected to be ready in two weeks, and will be administered on a voluntary basis, primarily to doctors.
Earlier this month, the Association of Clinic Trials Organizations wrote in a letter to Russian Health Minister Mikhail Murashko: "This is a Pandora's Box and we don't know what will happen to people injected with an unproven vaccine."
According to RIA Novosti, Putin said his daughter's temperature "rose slightly" after the second dose, but assured that she is feeling well and has high antibody titers.  — Nicole DeFeudis 
Kodak board member's gift comes under scrutiny
Eastman Kodak's $765 million government loan to boost pharmaceutical manufacturing capacities was put on hold just last week, and now reports of a well-timed charitable donation have come to light.
Kodak board member George Karfunkel and his wife Renee Karfunkel reported in a securities filing a donation valued at $116.3 million to a Jewish synagogue in Brooklyn, NY, according to the Wall Street Journal. Per the filing, the donation took place on July 29, the day that Kodak's stock hit its highest peak since 2014.
The synagogue, Congregation Chemdas Yisroel, was incorporated in Delaware in 2018 and George Karfunkel is listed as its president. It received tax-exempt status from the IRS last September as a public charity.
Karfunkel's donation came in the form of 3 million Kodak shares. Using the average of July 29's high and low Kodak stock price at $38.75, which is how the IRS values stock gifts, the donation amounted to the single largest gift recorded to a religious group, the Journal wrote citing a list from Chronicle of Philanthropy.
Kodak held a call with investors Tuesday afternoon to discuss second quarter earnings, but in an unusual move did not hold a formal Q&A session afterward. Execs were tight-lipped about the loan, with CEO Jim Continenza mentioning it briefly to emphasize that the July loan announcement was "only a letter of interest."
Since the news hit that Kodak was slated to receive that loan, multiple investigations have been launched regarding the timing of the announcement and how it may have benefitted Kodak's top officers. The SEC and House Democrats are both probing the deal, with the latter questioning why the government would choose Kodak after it was "on the brink of failure" as recently as 2012.
The US International Development Finance Corporation officially put the loan on hold on August 7, just before markets closed for the weekend. Kodak's stock tanked about 40% over the weekend following the DFC's announcement.
According to the Journal, Kodak said it would cooperate with any investigations, and no other company executives have reported selling shares since the price shot up. — Max Gelman
RedHill Biopharma expands testing of potential Covid-19 treatment
RedHill Biopharma's opaganib — one of hundreds of potential candidates to treat Covid-19 — was approved for a Phase II/III trial in Mexico.
The Israel-based biopharma already has the green light to test opaganib in the UK and Russia, and is under review for trials in Italy and Brazil. Enrollment is halfway through for a Phase II trial in the US in patients with severe COVID-19 pneumonia who are hospitalized and require supplemental oxygen.
Early results show that the first Covid-19 patients treated with opaganib were all discharged from hospital care without needing mechanical ventilation, while 33% of those in the control group required ventilation. The median time to weaning from a high-flow nasal cannula was 10 days in the opaganib group, versus 15 days in the control group
RedHill snagged the drug, a sphingosine kinase-2 (SK2) selective inhibitor, from Apogee Biotechnology in 2015. It has completed preclinical studies in oncology, inflammation, GI and radioprotection, and a Phase I trial in cancer patients with advanced solid tumors. It has orphan drug designation in the US to treat cholangiocarcinoma, and is also being tested for the treatment of prostate cancer. — Nicole DeFeudis
For a look at all Endpoints News coronavirus stories, check out our special news channel.
This content was originally published here.