Author Neil Gaiman Claps Back At Elon Musk After He Says Tolkien Is 'Turning In His Grave' Over 'LOTR' Series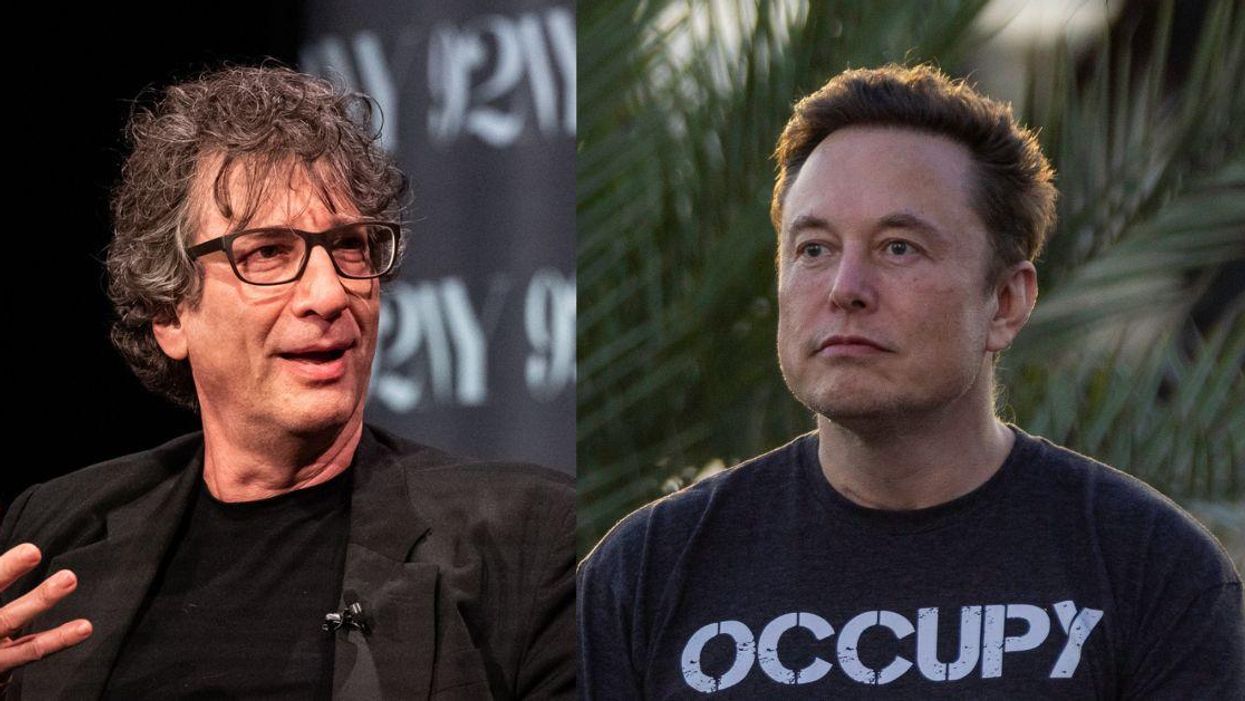 Author Neil Gaiman is no stranger to anti-diversity criticism these days and he's no stranger to clapping back hard either.
Even when the critic in question is billionaire Tesla CEO Elon Musk.
Musk recently lashed out on Twitter over Amazon Prime's series The Rings of Power—a prequel to J.R.R. Tolkien's classic Lord of the Rings series.
Musk tweeted:
"Tolkien is turning in his grave"
He followed up with:
"Almost every male character so far is a coward, a jerk or both."
"Only Galadriel is brave, smart and nice."
\u201cAlmost every male character so far is a coward, a jerk or both. Only Galadriel is brave, smart and nice.\u201d

— Elon Musk (@Elon Musk)
1662400904
Musk complained Amazon had the audacity to make the male characters flawed.
The Rings of Power is the latest work to be accused of runaway "wokeness" and having too much diversity in the cast by mostly White, heternormative males online. It follows after uproar over the Netflix series adaptation of the 1989-1996 comic book The Sandman written by Gaiman and published by DC Comics.
Perhaps for that reason a fan—Doggie777Moon—decided to solicit Gaiman's take on Musk's criticism. Gaiman has no direct connection to the Rings project.
They tagged Gaiman and tweeted:
"Bro even Elon musk doesn't like the new f**king [The Rings of Power] show."
"That's crazy 😟."
"[Neil Gaiman] what you think [of this?]"
They added:
"Now for anybody over here asking who cares about what Elon Musk thinks it's not just that I've been seeing everybody dislike this show but Elon is also a big nerd."
"So I ask Neil Gaiman who is friends with the creator of the rings what does he think that's it."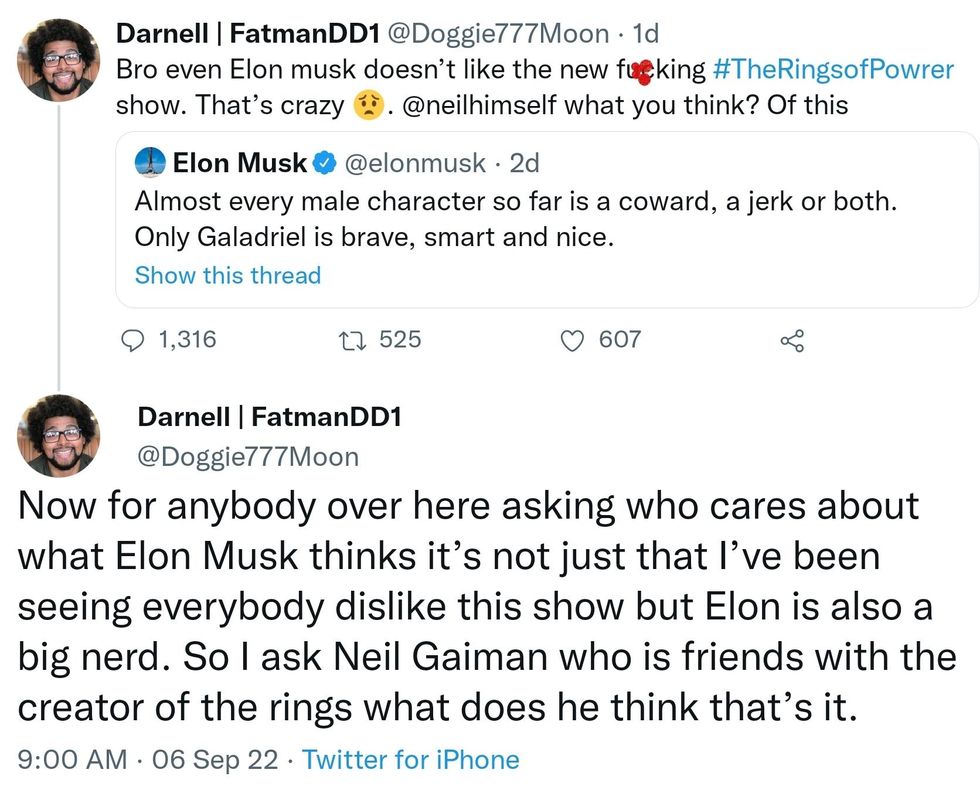 @Doggie777Moon/Twitter
Suffice to say Musk's critiques did not fall on receptive ears.
Gaiman clapped back and clapped back hard with a perfectly shady response that put Musk in place by mocking his latest failure.
See Gaiman's tweet below.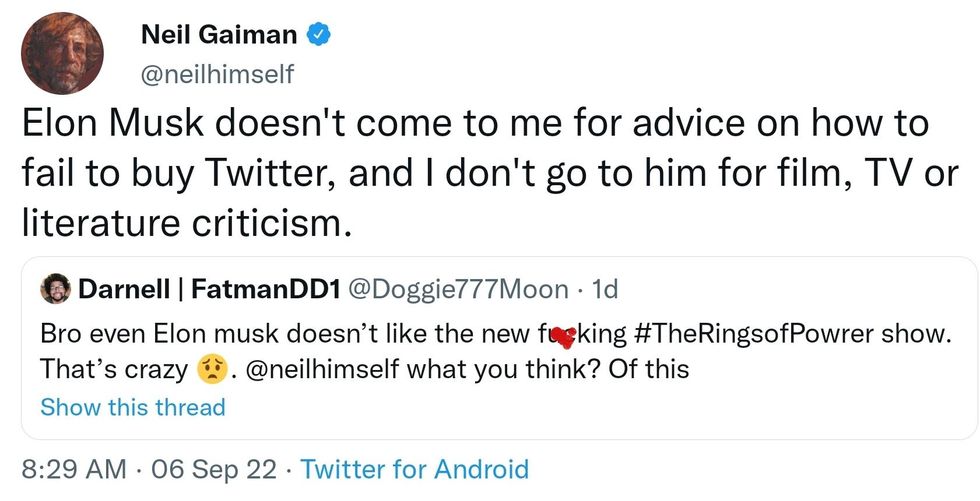 @neilhimself/Twitter
Gaiman responded:
"Elon Musk doesn't come to me for advice on how to fail to buy Twitter, and I don't go to him for film, TV or literature criticism."
And that's that on that.
Gaiman's clapback is of course in reference to Musk's boondoggle attempt to take over Twitter in a $44 billion deal that quickly turned into a mess from which he is struggling to extricate himself.
Musk—a self-professed diehard fan of the Lord of the Rings—also has a decades-long feud with Amazon founder, executive chairman and former president and CEO Jeff Bezos. So it's not exactly surprising he'd take to social media and publicly hate on an Amazon Prime project, whether he sincerely disliked it or not.
On Twitter, many loved Gaiman's quick dispatching of Musk's criticism and mocked Musk—and his online minions—mercilessly.

\u201c@TheComicHunter @neilhimself He\u2019s gonna spend at least a billion dollars to not buy Twitter. \n\nI don\u2019t-buy Twitter for free all the time\u201d

— Neil Gaiman (@Neil Gaiman)
1662467356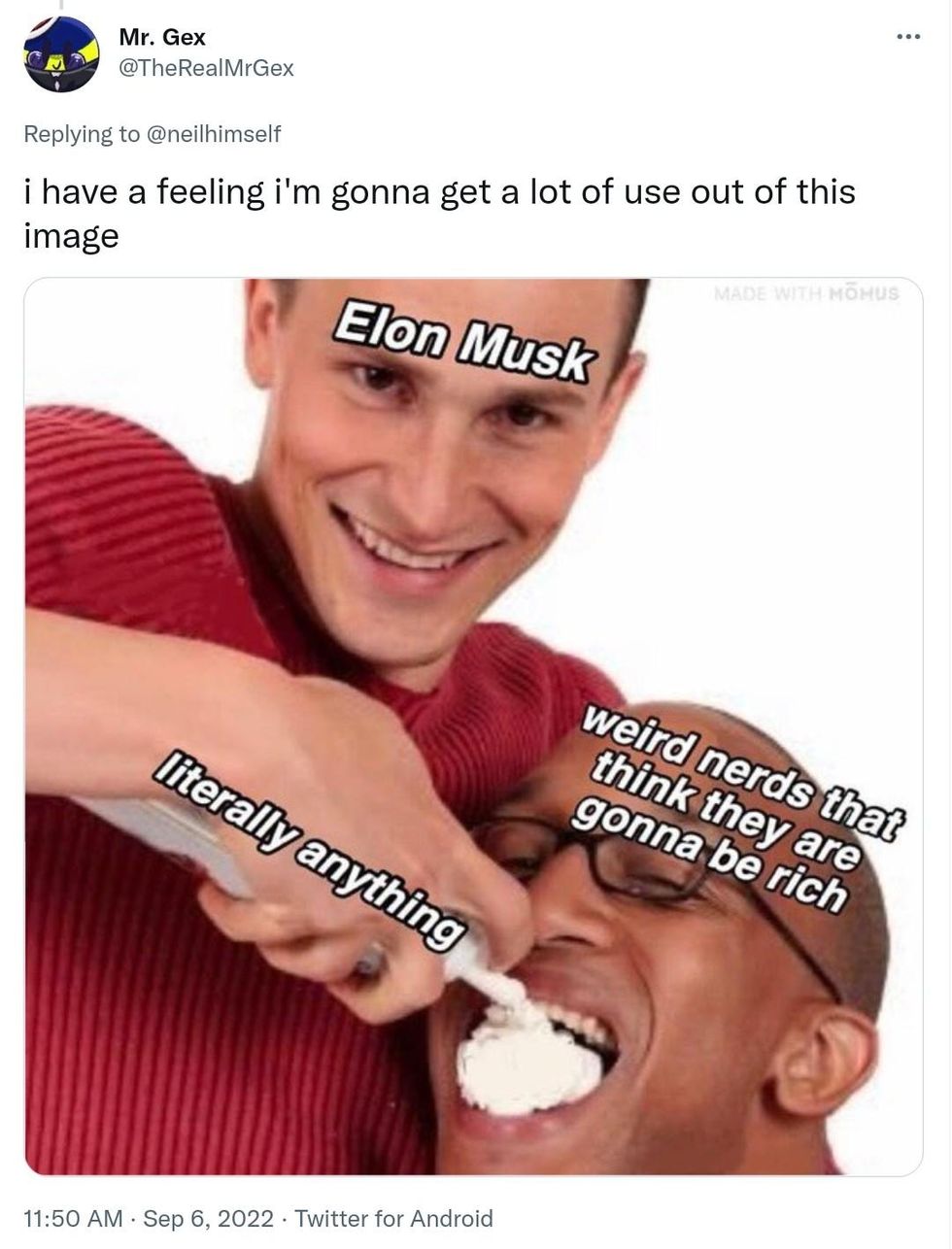 @TheRealMrGex/Twitter
\u201c@mlesmorales @neilhimself They're especially less qualified for most things.\n\nIf I need advice on how to turn my father's fortune into a bigger fortune, I'll ask him.\n\nLITERALLY anything else, I'll find someone else.\u201d

— Neil Gaiman (@Neil Gaiman)
1662467356


@DaraSquires/Twitter


@BartolBB/Twitter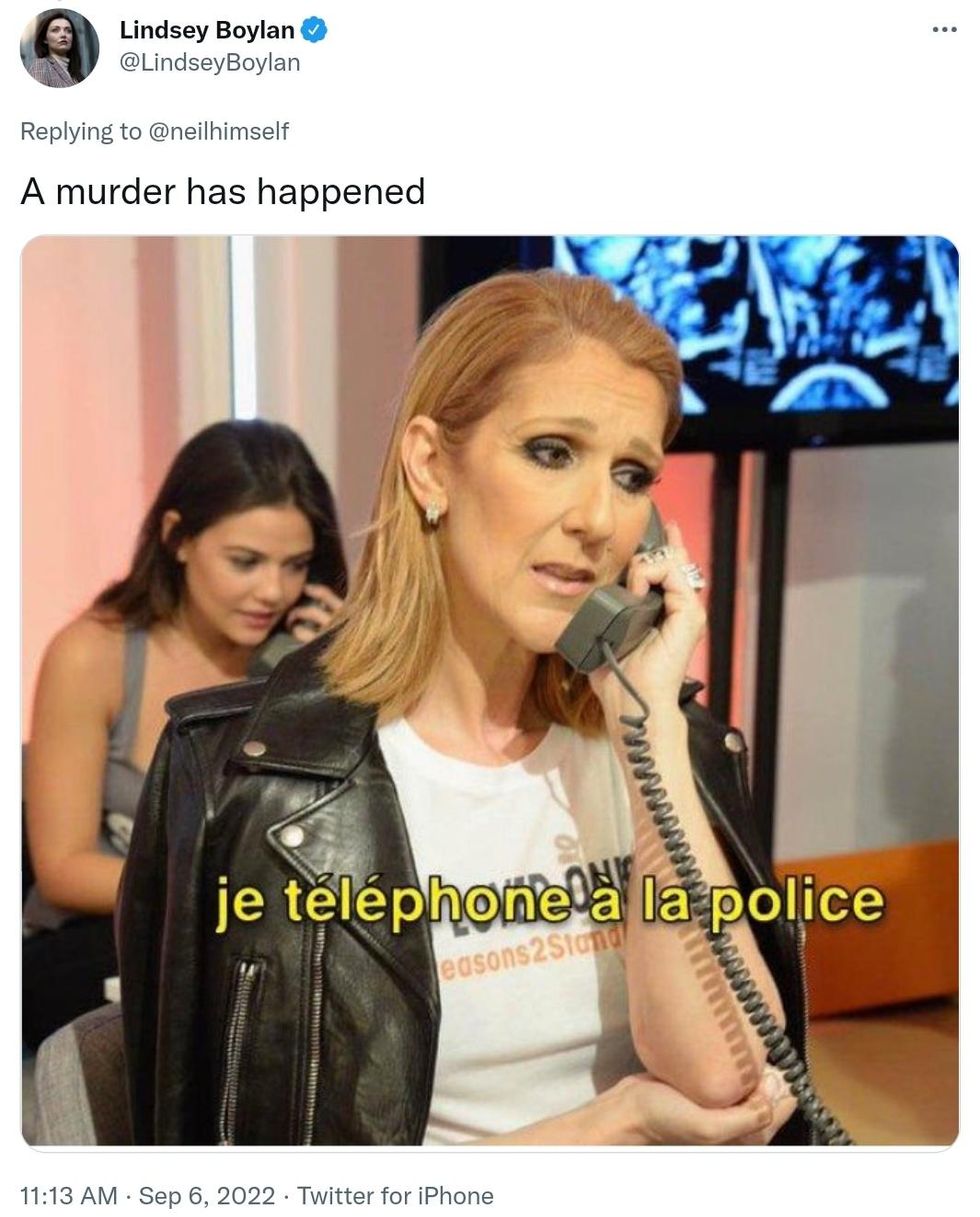 @LindsayBoylan/Twitter
\u201c@deby_day LOTR without diversity would be just humans killing each other. The whole thing is about different races working together! Lol\u201d

— Neil Gaiman (@Neil Gaiman)
1662467356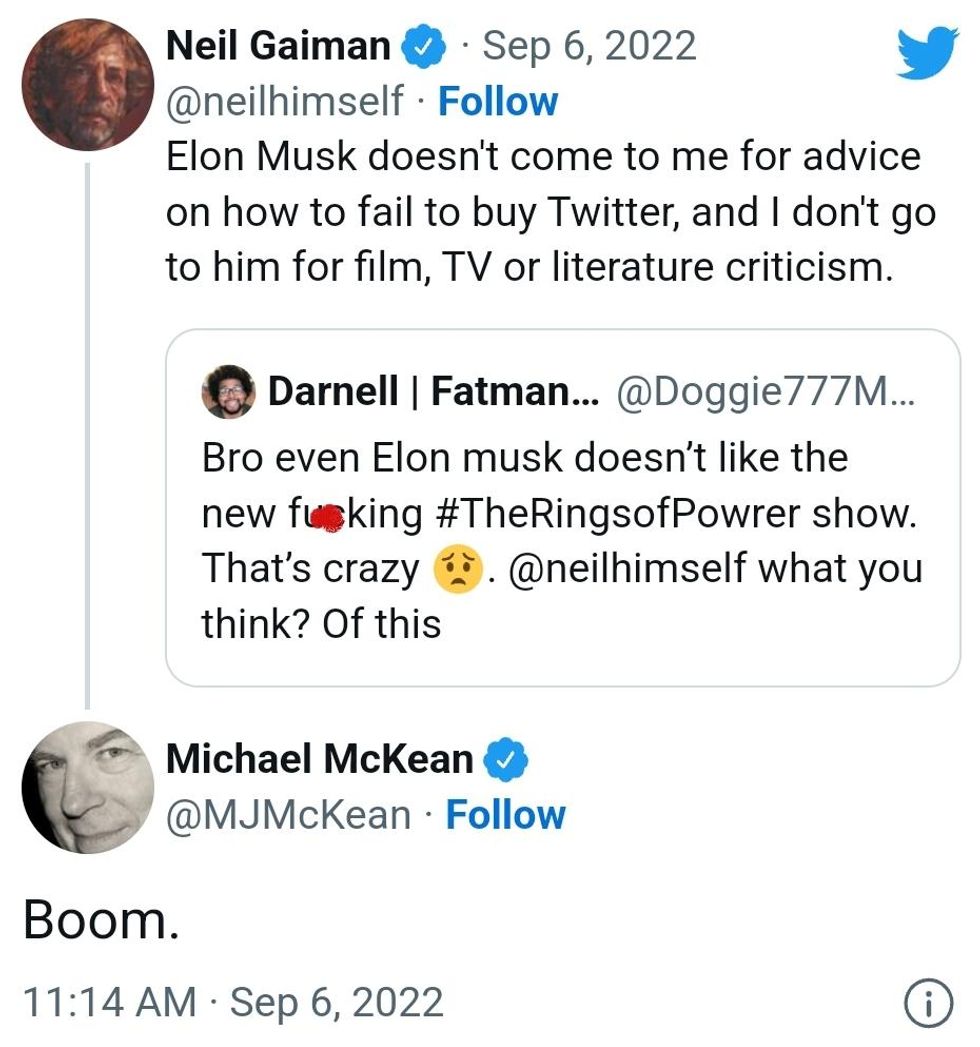 @MJMcKean/Twitter


@aapur/Twitter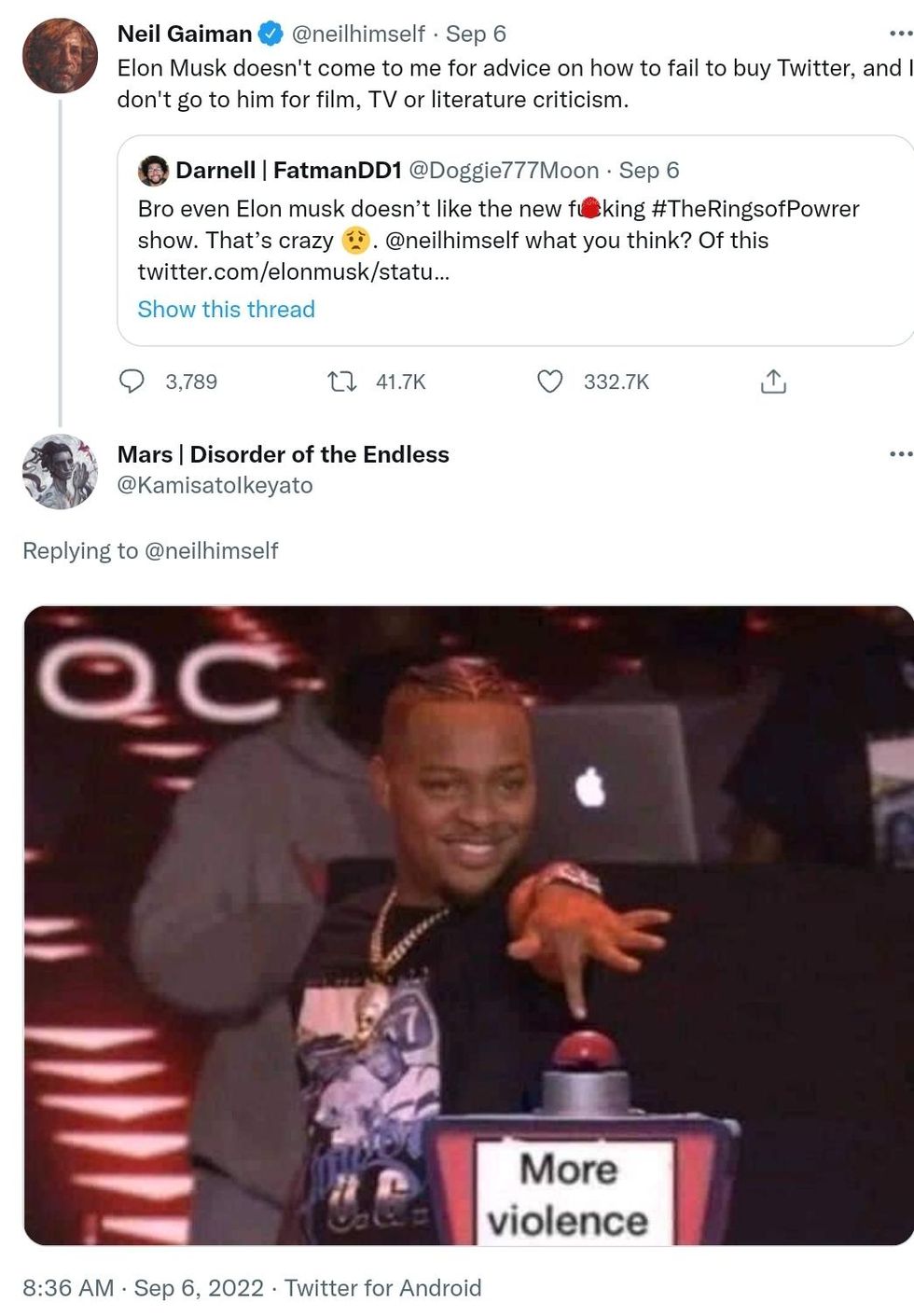 @Kamisatolkeyato/Twitter


@pdolby/Twitter
\u201c@DanSlott @neilhimself Another tesla randomly exploding?\u201d

— Neil Gaiman (@Neil Gaiman)
1662467356
Whether viewers like Amazon's new show or not, it is an unqualified success.
It took in 25 million viewers on its first day, the best series launch for an Amazon Prime original ever.
Your move, Elon.
This content was originally published here.