It looks like an unavoidable and calamitous wipeout for the field of financial advice: nearly 40% of advisors — or 111,636, to be down-to-the-nose specific — are expected to retire in the next decade.
Can anything be done to mitigate the inevitable?
Yes, according to a new report from research firm Cerulli Associates. By ramping up diversity and inclusion efforts and collaborating with each other industry-wide, firms can bring on a new generation of advisors to replace their losses, Cerulli says.
"There are firms that have done exciting new initiatives in this space, but by sharing their findings and, almost more importantly, their failings with each other, that is where we can create powerful change," says Marina Shtyrkov, the report's author. She says that the report marks the first time the firm has articulated this stance.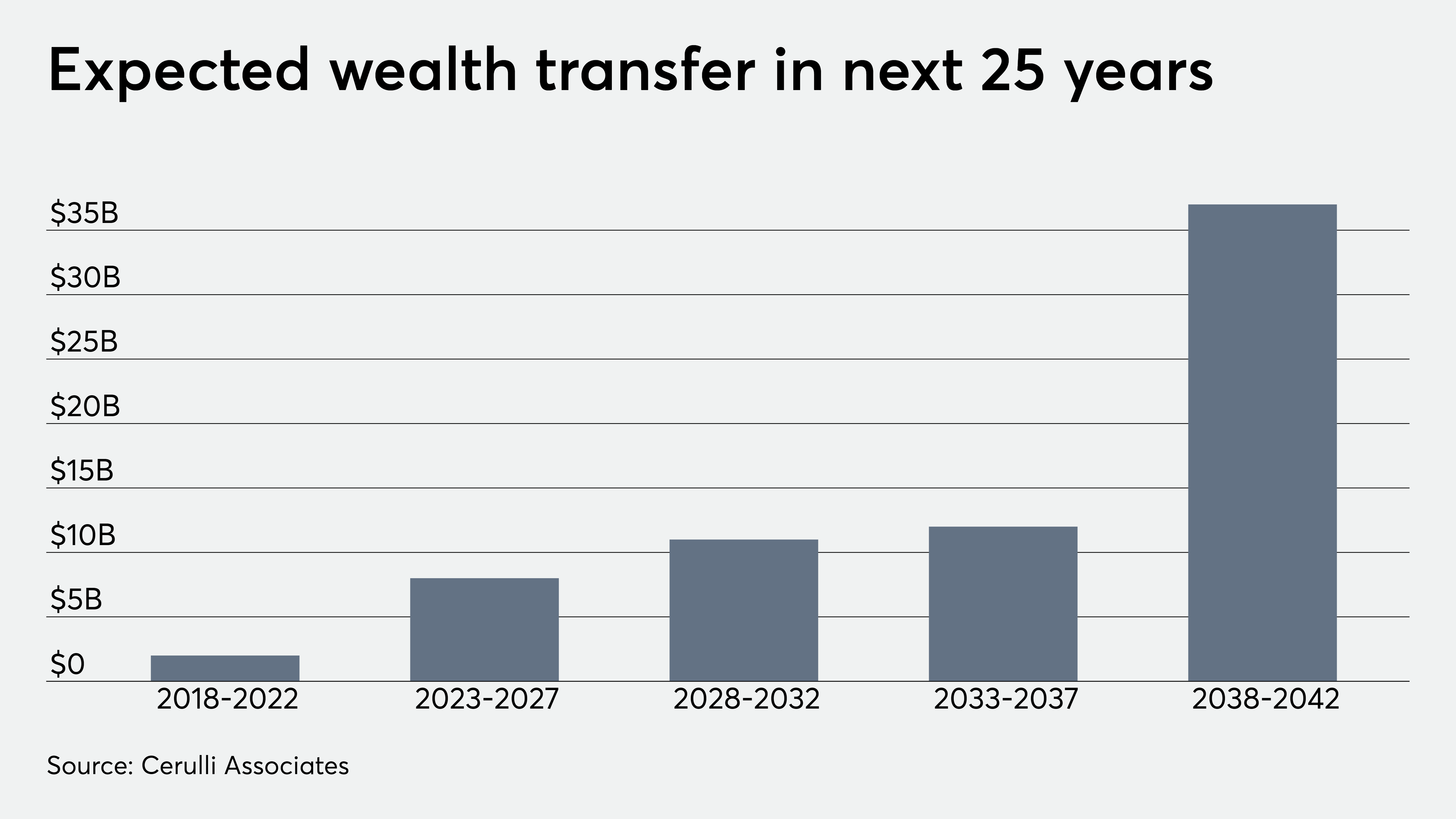 The urgency to find a broad-based solution is heightened by the anticipated transition of almost $70 trillion of wealth from baby boomers to Generations X and Y and charities over the next 25 years, the report says. A diverse workforce will be better able to hang onto wealth once it moves, according to Cerulli. About 70% of younger investors indicated they are likely to fire their parents' advisors upon inheriting wealth, the firm says.
"Wealth managers need to be a reflection of our clients," says Dave Welling, CEO of Mercer Advisors, an RIA that claims more than $17 billion in client assets and recently diversified its leadership team to 40% women. "Our female clients want to see that, as a firm, we reflect their values and part of that is having advisors and leadership that are women. At Mercer Advisors close to half of our advisors are women and this has gone a long way in giving our clients confidence that we understand their needs."
Women may comprise half the country's population, but they account for just 14% of advisors across seven channels: independent RIAs, hybrid RIAs, independent broker-dealers, national and regional broker dealers, wirehouses and insurance brokers. That's 42,097 women out of 304,000 advisors total, Cerulli's report finds.
Mercer says it is collaborating on diversity and inclusion initiatives with larger partners, including Charles Schwab, TD Ameritrade, Fidelity and Dimensional Funds — and would do more.
"We would be very interested in participating in broader industry efforts," Welling says.
But diversity efforts, while long championed by executives across the industry, face an uphill battle. The Cerulli report cites exclusive or "unwelcoming firm cultures" among a list of factors that contribute to barring planners of diverse backgrounds from entering the industry.
Removing those barriers won't be easy, Shtyrkov writes.
Recently advisor Alex Chalekian, founder of Lake Avenue Financial in Pasadena, California, called for industry-wide cooperation on making the profession a more welcoming and safe working environment for women. Firms began turning to Chalekian for advice on the issue last year after he was the sole advisor to speak out after Ken Fisher of Fisher Investments made public comments about women that many found demeaning. Chalekian is calling for the creation of standardized policies and procedures for firms to follow in protecting women and minorities. Alan Moore, cofounder of the XY Planning Network, said his firm would support the creation of such an industry body. XY is another firm that recently diversified its ranks of women leaders.
Other barriers to entry remain, including a formidable washout rate. Of 19,384 new trainees who entered the industry in 2019, approximately 50% to 75% will fail in their first five years, Shtyrkov writes.
The industry's focus on sales often proves unpalatable to new advisors more interested in helping clients achieve financial goals than selling products, according to Cerulli. Moreover, the fact that many non-white advisors don't come from moneyed backgrounds hampers their ability to build client networks fast enough to produce sufficient income, the report finds. One solution would be to move away from commission-based compensation to salaries, it adds.
"In order to create meaningful, lasting change, firms must be willing to make significant modifications to compensation, recruiting strategies, training programs and leadership," Shtyrkov writes. "Although diversity has become a common topic of discussion, firms will be pushed to prove their commitment — going beyond paying lip service to demonstrating progress."
This content was originally published here.